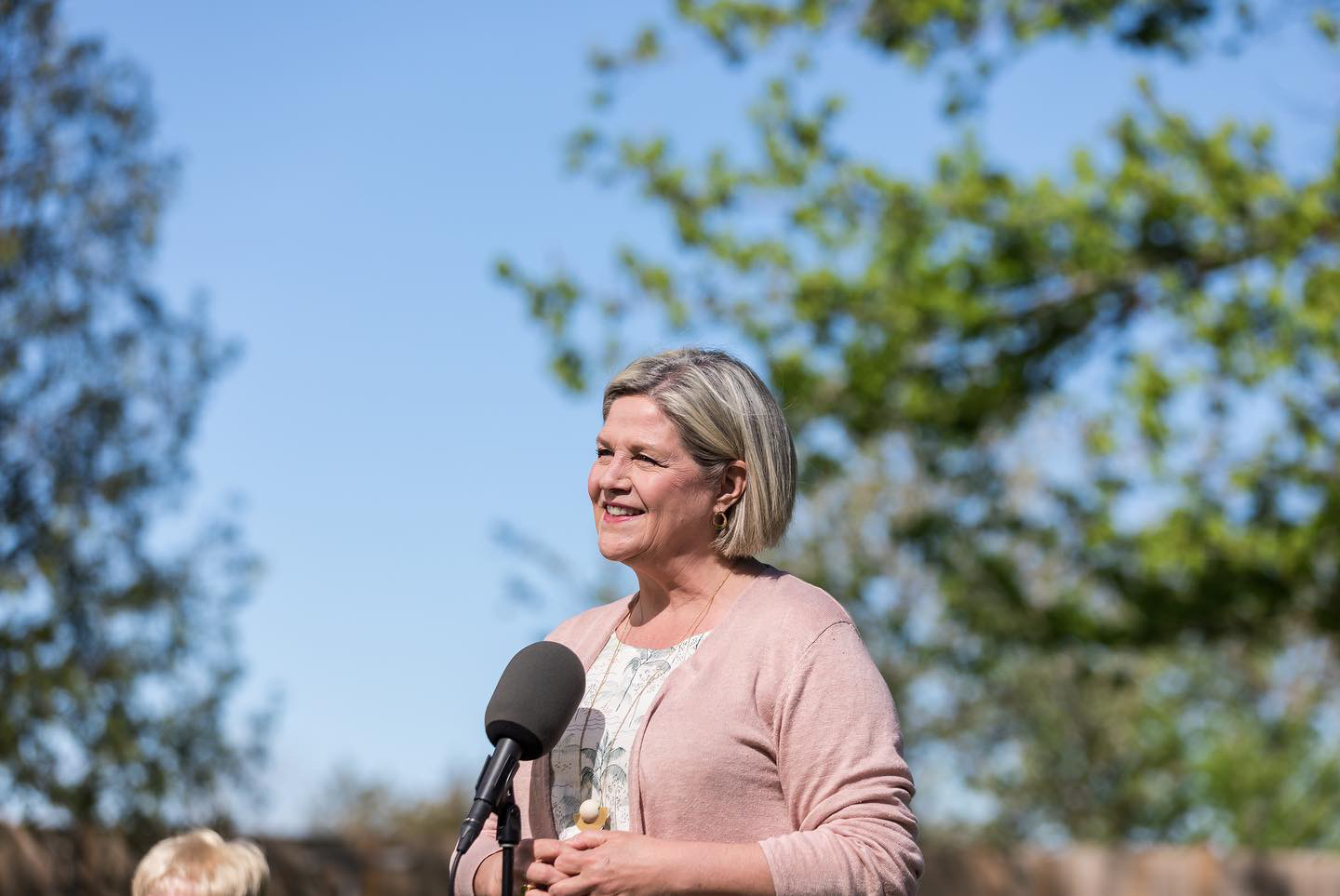 Andrea Horwath and the NDP are ready to make life easier, healthier, and more affordable for people living in Toronto. The NDP's Toronto team gathered Sunday to release the Toronto platform.
"Everyday Torontonians just want to get back on solid ground. And together, we can. We can make homes more affordable, and staff up our health care system. We can lift people out of poverty, and make sure people don't have to wait for transit," said Horwath. "We have the plan to do it, and we have an incredible Toronto team of candidates."
The NDP's Toronto Platform makes bold commitments to:
Make homes more affordable for renters and buyers by bringing back real rent control, introducing rent stabilization between tenants so renters pay what the last tenant paid, ending exclusionary zoning, and building 1.5 million homes province-wide over 10 years.
Reducing class sizes, hiring 20,000 teachers, and clearing the backlog in school repairs while building new schools.
Establishing a $20 minimum wage by 2026, guaranteeing protections for gig, temp and contract workers, guaranteeing all workers 10 paid sick days, and repealing Doug Ford's low-wage policy Bill 124.
Accelerating recognition of internationally educated professionals, including expediting nursing credentials of 15,000 internationally trained nurses.
Making the TTC more frequent, reliable, comfortable, convenient and affordable.
"Our bold plan meets people where they are and works for Torontonians," said Kristyn Wong-Tam, NDP candidate for Toronto Centre. "We want our neighbours in Toronto to be able to build their best life here. To support that dream, the NDP will deliver on affordable homes, publicly funded mental health services, better transit and so much more. It's about time Torontonians have a provincial government working for everyday people instead of Ford's buddies."
The Toronto Platform also includes the NDP's commitments to make Ontario net-zero by 2050, create a Provincial Arts Strategy, end homelessness within 10 years, and to support small businesses.
"Scarborough has been left behind by Doug Ford and the Liberals before him," added Doly Begum, NDP candidate for Scarborough Southwest. "But the NDP sees and hears our communities. That's why we're making crucial investments in Scarborough's transit, lowering auto insurance by 40 per cent, and adding the health care workers we need to bring wait times down."
"Doug Ford spent four years cutting what matters to us, while giving his buddies everything they want. And Steven Del Duca could have made life better for Torontonians when he was in cabinet — and he chose not to. Now, the Liberals are too weak to win. But the NDP is just 10 seats away. If Toronto comes together with Andrea, we can stop Ford's cuts and finally start to fix what really matters to Toronto families."
Background
The NDP's Toronto Platform includes commitments to:
Bringing back real rent control: We'll ensure you pay what the last tenant paid, eliminating the financial incentive for landlords to squeeze out tenants to raise the rent.
Building affordable homes: We have a plan to build 1.5 million homes over the next decade to ease the housing crunch, and we'll establish a new public housing agency, Housing Ontario, to finance and build 250,000 affordable and non-market homes.
Ending exclusionary zoning: Change zoning rules to enable the construction of more affordable "missing middle" housing, like duplexes, triplexes and townhomes in existing communities where people want to live.
Increase funding for Ontario's Community Health Centres (CHCs): We'll expand CHCs across the province, including by building two additional ones in Scarborough.
Strengthen local hospitals: We'll redevelop the Scarborough Health Network's Centenary and Birchmount hospital sites and ensure Scarborough General's project timelines are met. We'll also redevelop key hospitals including SickKids, the Centre for Addiction and Mental Health, St. Joseph's Health Centre and Sunnybrook Health Sciences Centre.
Implementing a 10-minute service guarantee: We will restore the provincial portion of transit operating funding to 50% and work with municipalities to guarantee ten-minute or better service on core routes across every major transit system in Ontario.
Integrating fares: We'll give riders two hours of unlimited travel across all municipal transit services in the GTHA on a single low fare. GO riders will be able to transfer to the TTC at no extra cost, and TTC riders will be able to use the GO rail system within Toronto at no extra cost.
Supporting Scarborough's transit needs: We'll explore ways to expedite building the Sheppard Subway extension and ensure more frequent bus service in the interim, to fill the service gap left by the soon-to -be-decommissioned LRT.
Reducing class sizes: We'll cap classes for Grades 4 through 8 and reduce high school class sizes.
More caring adults in the classroom: We'll hire 20,000 teachers and education workers, additional mental health and child and youth workers and invest in inschool remedial learning programs.
Clearing the school repair backlog: We'll immediately address the backlog, with a plan to clear it within 10 years.
Building new schools: We'll work with school boards to build new schools in growing communities. For example, in Liberty Village, East Waterfront and West Don Lands.
Establishing a $20 minimum wage: We'll raise the minimum wage to $20 by 2026, with stable, predictable $1-an-hour increases annually.
Fair treatment for temp and gig workers: We'll prevent gig, temp and contract workers from being misclassified as independent contractors, to ensure they get wages, protections and benefits on par with other workers.
Accelerating recognition of internationally educated professionals, with a focus on health care: We'll immediately pass NDP MPP Doly Begum's Fairness for Ontario's Internationally Trained Workers Act, which addresses accreditation barriers for internationally trained professionals. We'll expedite nursing credentials of 15,000 internationally trained nurses and create a job-matching program to guarantee internationally trained physicians get local experience.