Canada's post-pandemic travel rush has continued despite soaring prices and ongoing disruptions. But beneath the surface, Canadians are making more compromises.
Though travel abroad has snapped back, many are opting for shorter distances, with a notable surge in trips to the U.S.
And domestic travel has increased, with the Atlantic provinces emerging as new hotspots—likely due to a surge of immigration and interprovincial migration.
This robust demand will gradually erode amid higher interest rates, pricier flights and hotels, and disruptions triggered by labour shortages.
Bottom line: We continue to expect a 'moderate' recession, one in which travel demand is more resilient than in previous downturns. But this demand will nevertheless soften as other economic forces take a toll.
Canadians can't slake their thirst for travel
Flight cancellations, luggage mishaps, and even soaring prices have done little to quiet the post-pandemic boom in Canadian travel demand. Between January and April of 2023, over 10 million Canadians returned from trips abroad. That's up by 7% compared to the same period in 2019.
Despite countless interruptions, and the grip of rising prices and interest rates on household budgets, spending on travel (which usually precipitates actual volume) has remained exceptionally strong—rising almost 30% above pre-pandemic levels, according to our own tracking of RBC data.
Underneath that seemingly unquenchable thirst, however, subtle changes in travel preferences are emerging.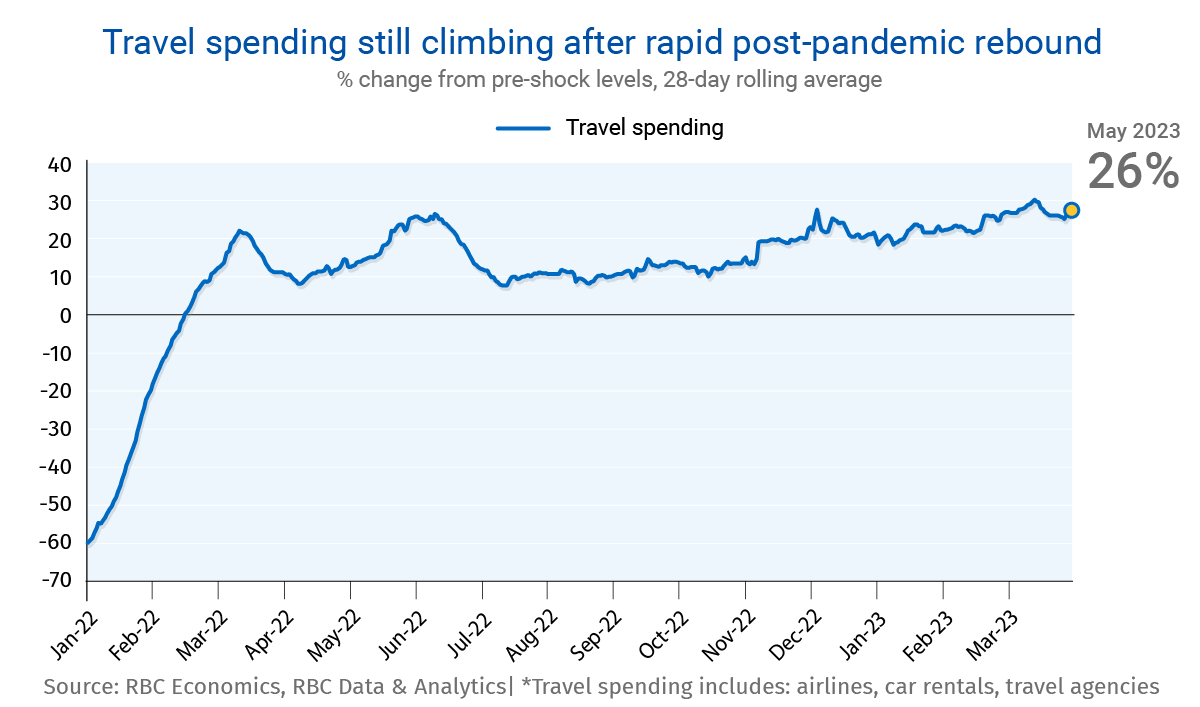 Even record prices have failed to dampen Canadians' wanderlust
In hindsight, the summer of 2022 was ripe for travel chaos. Tourism jobs in Canada were still down by almost 10%, or over 130,000 positions, compared to 2019. And an acute labour shortage left the travel sector (like many others) struggling to find workers. The situation was especially dire for air transport and travel agencies, where employment was down by close to 20%. Meantime, demand for Canadian tourism was rising— fast. By the end of 2022, domestic and international travel had both rebounded to 15% below 2019 levels (in constant dollar terms). And pent-up demand had driven prices through the roof. Hotels and tours in Canada were approximately 20% more expensive during summer 2022 than they were in summer 2019, flights were over 30% pricier, and rental cars cost over 50% more.
Though costs have eased since then—prices for air transport in April were 4% below where they were last year—interest rates have soared, pushing the cost of food and shelter to record levels. Yet Canadians still haven't shelved their travel plans.
Despite the higher cost, more Canadians opted to fly in 2023 rather than drive. Indeed, the number of Canadians returning from trips abroad by a land port plunged 21% in the first part of the year, while the number who flew rose 42%. And travellers continue to prioritize quality over budget. In 2023, more Canadians searched for "best" travel options, compared to "cheap" ones, according to data from Google Trends. The gap has also grown noticeably wider than it was before the pandemic.
But cost is rerouting some of our plans
Still, there are signs that rising prices are having an effect. Among Canadians that flew, significantly more travelled to the U.S. relative to other countries. Roughly 134% more Canadian residents returned from the U.S. via air travel from January to April this year, compared to 2019. This could be due to frustrations with airport disruptions, the return of conferences in the U.S., and an increased ability to work from "anywhere." But shorter distances are also more affordable. As interest rates and prices remain relatively high (though slightly down from last year) this was likely a key consideration.
Even domestically, travel preferences have shifted. Atlantic Canada became a travel magnet in 2023 with Newfoundland and Labrador, Prince Edward Island and Nova Scotia all seeing the biggest increases in search interest during January to mid-May 2023 relative to the prior 6-month period, according to Google Trends.
Interestingly, these same provinces are experiencing a population boom. Combined, population among Atlantic Canada provinces rose 2.5% in 2022, outpacing the national average of 1.8%. That rise was fueled by more net international migration, as well as more inter-provincial migration. Newcomers likely brought with them more demand for domestic tourism—either their own or that of visiting friends and family.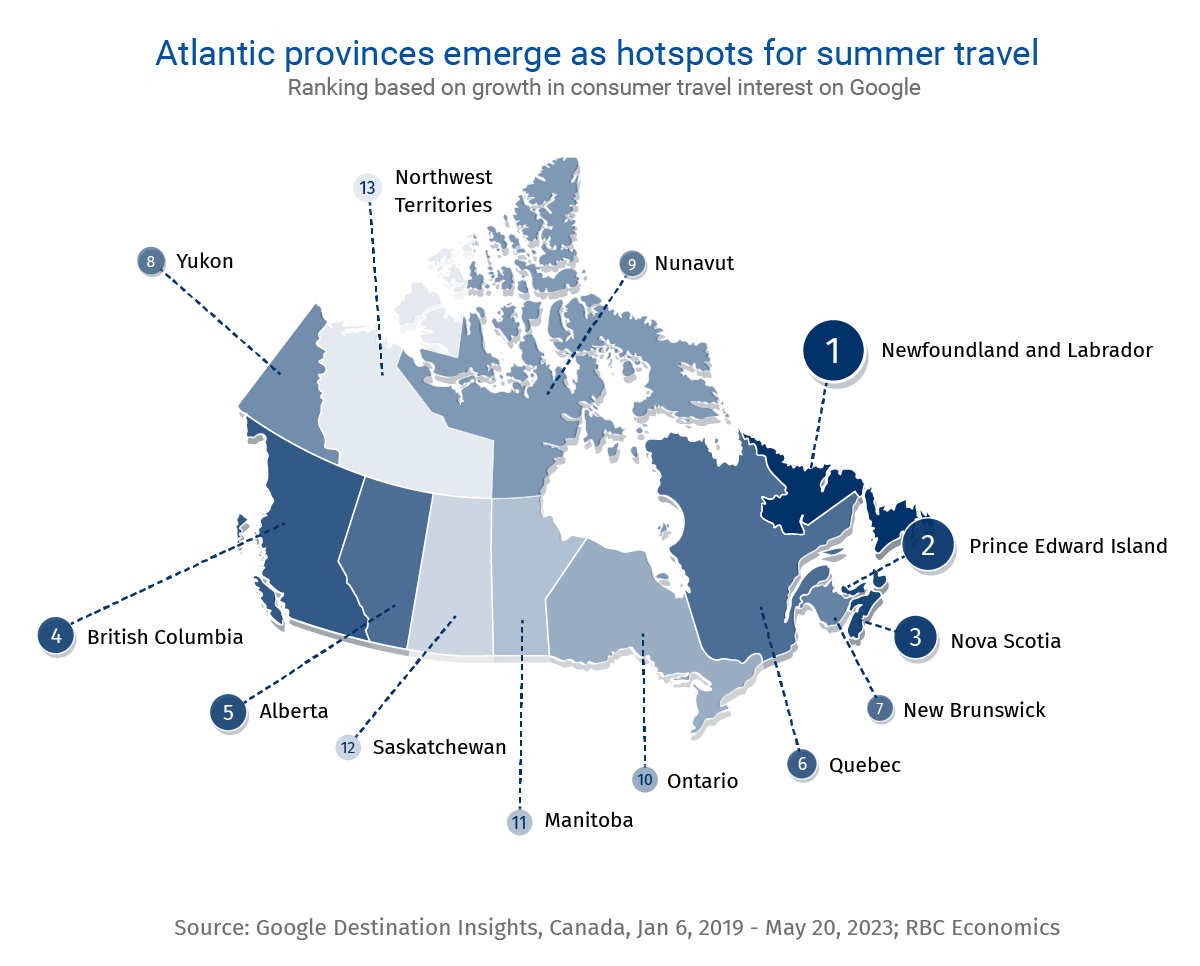 Demand for travel will slow but won't crash
Unemployment rates in Canada have been trending around decade-low levels. That's boosted household income and supported consumer spending on travel.
But this is unlikely to last. Early indicators are that job openings are leveling off, suggesting a softening in labour demand is underway. And conditions are expected to weaken even more into 2024. Meantime, headwinds associated with tighter monetary policy will keep building, limiting future spending as more people face rising debt payments.
Still, spending from higher income households should continue to fuel demand. These households, which put away a disproportionally high share of pandemic savings, also tend have more stable income during economic downturns, as they are less prone to lose employment. And higher immigration should continue to limit declines in domestic travel demand, as more newcomers explore within or out of their provinces. In short, we expect a slowing in travel demand, but not a crash.