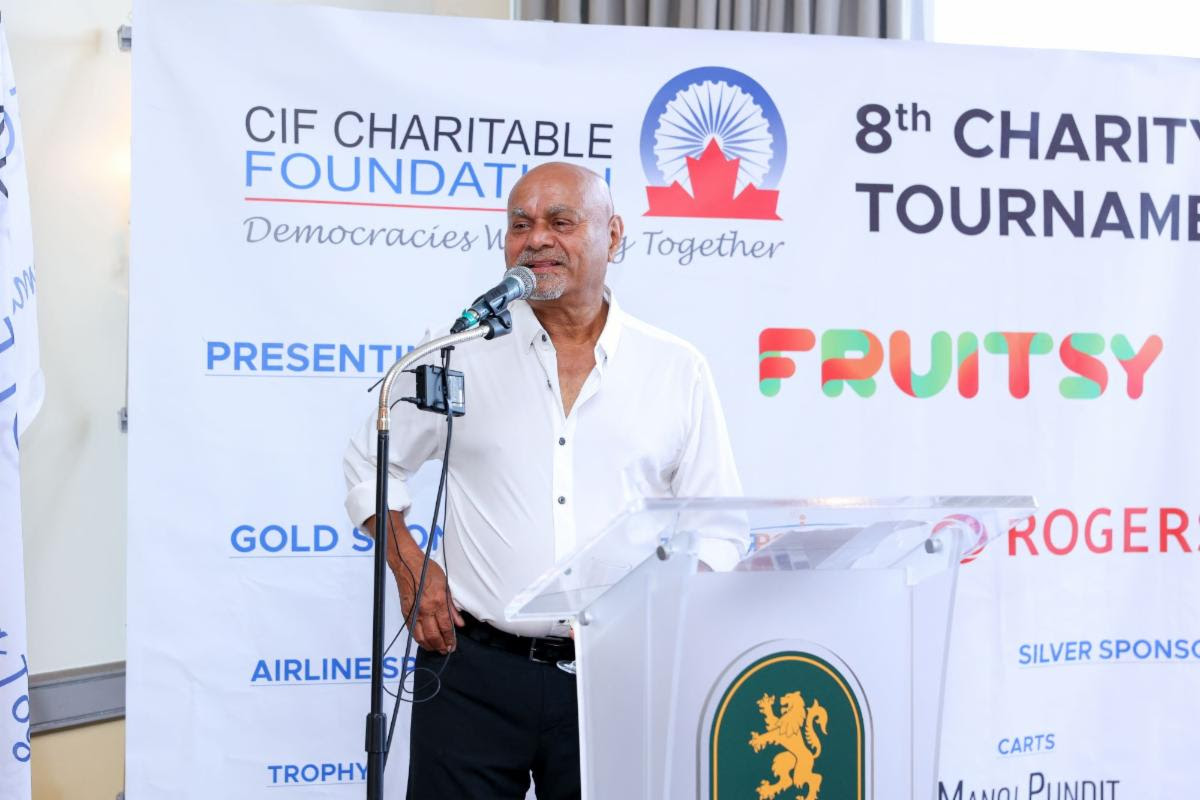 The 8th Canada India Foundation (CIF) charity golf tournament was held at the Lionhead Golf Club and Convention Centre in Brampton on August 9th, 2023, a picture-perfect day for golf, blessed by the weather gods as noted by the chief architect of this philanthropic initiative, Anil Shah, Chair, CIF Golf committee.The tournament attracted 292 golfers, creating a record in attendance as well as funds raised for the cause. While thanking the players and sponsors, Shah, said: "At CIF our goal has always been to foster ties between Canada and India. At the same time, we also want to demonstrate our commitment to both countries through such charitable activities. This is one of the most noble causes that anyone can be a part of. After all, the funds raised will go towards helping the families of soldiers who have made the ultimate sacrifice in their line of duty both in India and Canada."
A large contingent of the Canadian Army reservists under the gentle guidance of Honourary Colonel Hari Panday, was present at the event who staged a skillful Jiffy Jeep demonstration for the gathering. There were also three senior retired officers representing the three services of the Indian Defense Forces.
| | |
| --- | --- |
| Satish Thakkar, FCPA, FCGA, Chair CIF | Siddhartha Nath, Consul General of India in Toronto |
While complimenting Anil Shah for yet another successful golf tournament, Satish Thakkar, Chair, CIF, extended his most sincere thanks to all the participants and sponsors for helping with the cause. He also reminded the audience that, yet another CIF event is around the corner – the prestigious CIF Global Indian Award gala, to take place on September 29th, 2023, in Toronto. This year's winner is one of the most admired women in India, Ms. Sudha Murty, Co-founder of Infosys and Philanthropist and Social Activist.Ritesh Malik, National Convener, CIF, was moved by the generosity shown by so many participants in raising funds for the families of fallen soldiers and frontline workers. Malik noted, "This is a matter of great pride and satisfaction for all of us . This day has also become a much awaited day in CIF's calendar that gives a unique opportunity to friends and supporters of CIF to play a round of great golf, and networking, all in a spirit of good karma." Among the many dignitaries who came to express their support were: Mayor Rob Burton of Oakville; Deepak Anand MPP; former senator, Asha Seth; and India's Consul General, Siddhartha Nath. Nath said that while CIF has created a remarkable story in a short period of time to advance the India Canada bilateral relationship, it is equally important to see such charitable activities that not only strengthen the relationship but creates a positive impact in the Indo Canadian community as well as the broader Canadian society. He noted that "sky is the limit" as far as Canada and India relationship is concerned and to "watch out for" some really encouraging developments in the coming months.
| | |
| --- | --- |
| Stephen Crawford, MPP, Oakville | Mayor Rob Burton, Oakville |
Echoing similar sentiments, Stephen Crawford, MPP, representing Premier Doug Ford, said, "The trade potential for us is phenomenal." The Ontario government, he said, was keen to work with CIF to turn these possibilities into reality.Rob Burton revealed his desire to organize an annual trade mission to India on behalf of the city of Oakville. "We want to attract as many investments and immigrants as we can from India in the coming years," he said.Anil Shah, who emceed the evening with his unique style and sense of humour, kept the guests engaged as he announced the various highlights of the day including an extremely rare hole-in-one. The $10,000 prize for this rare event was claimed by Vishal Uppal.The grand prize in the raffle draw was the highly sought after 2024 Ford Mustang, won by Norton Kothari, which was immediately donated back for auction, bought by a generous bid of $40,000 by Mr. Rathish Menchery Mony, CEO Appfabs Incorporation.Sunita Vyas, CIF's National Co-convener thanked all the sponsors and supporters of the Foundation. She also announced the other raffle prize winners as below:Liquor Basket Phil Rosenberg Ticket no 230244,BMW Backpack Vimal Jain Ticket no 230315,BMW Carry Bag Hari Gautam Ticket no 230412,Expresso Coffee Machine Deepak Anand Ticket no 230982 and65" LG Color TV B S Khalsa Ticket no 230401 Donated back by Mr. Khalsa and Auctioned for $1000
CIF Charity has already expanded the beneficiary list to include the families of Canadian frontline workers facing dire circumstances. Beginning 2022, CIF instituted a separate fund to create scholarships for their children. The first scholarship was presented to student from India, Albin Jose, who narrated his story. Following his father's untimely death while in the service of Indian army, he applied to CIF for support to make his dream of studying in Canada a reality.Golf Chair Anil Shah conveyed his heart-felt appreciation to all the sponsors whose generous support along with the players helped raise a record amount for the CIF Charity. Mr. Fatih Durmaz, Vice President, Turkish Airlines flew down from Istanbul specially for the occasion. "Each one of you has been a great source of inspiration for us and your continued support in the years to come will help us take this initiative forward and expand it even wider," Shah said.
The full list of the winners of the 8th CIF Charity Golf tournament is as follows:Winners (Masters): Sanjay Makkar, Jeff Patterson, Vikram Khurana, Sanjay TugnaitRunners up (Masters): Harkiran Bopari, Anoop Joshi, Gordy Khuman, Naunihal GillWinners (Legends): John Mehlenbacher, Mike Yates, Onkar Dhillon, Shane PresswoodRunners up (Legends): Vishal Uppal, Joao Cruz, Bobby Khanna, Avish Narang